Why Bamboo, not Wood ?
It is not only about material, but also about style and innovation. We choose bamboo to be a flooring material, not only for its durability and stability but also for its environmentally friendly nature, plus the exotic and romantic looks without equal. Bamboo is the fastest growing woody plant in the world. As a highly valuable and renewable natural resource, bamboo offers a multitude of products which can meet both subsistence and commercial needs of people across the globe. More than 2.2 billion people depend on bamboo to derive food, shelter, clothing, and transportation related accessories. Matured bamboo culms offer construction materials which can substitute for wood, with 20% more per unit tensile strength than steel. Bamboo is really a grass, though. It will reach maturity in four years and replenishes itself. Made from bamboo, with advanced technology, Bamboo planks is a natural flooring that conserves our forests.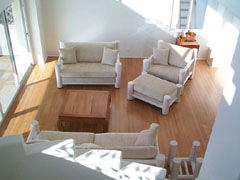 Elegance
The elegance of bamboo flooring is evident in choosing bamboo flooring goes far beyond being environmentally responsible - it is the ultimate flooring choice!
Stability
Bamboo flooring provides more dimensional stability. It is subject to less expansion andcontraction than both oak and maple, as well as other types of hardwood flooring.
Hardness
Bamboo flooring is appreciably harder than even the majority of oak floors. By way of comparison, the hardness of American oak is 4.2KP/mm [Brinell] while Bamboo is 4.0KP/mm [Brinell].
Durability
The exceptional durability of bamboo flooring minimizes the need for frequent flooring replacement, and provides a lifetime of beauty and enjoyment.
Versatility
Adding to the incomparable quantities of Bamboo is the versatility in which it brings. Using of Bamboo is not limited for flooring alone, he can extend to other areas as ceiling.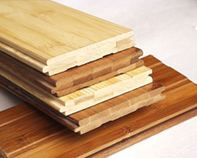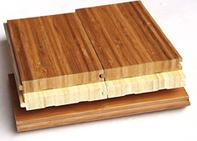 36"(L) x 4"(W) x 5/8"(H)
© Copyright 2006. All Rights Reserved. Butterfly Canada Inc.